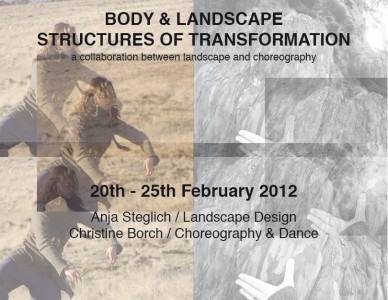 The workshop is calling students and professionals from all disciplines linked to spatial research, spatial development and spatial design.
—
date: 20th – 25th february 2012
location: Uferstudios Berlin
program: download flyer (pdf, 418 kb)
subscription: bodylandscape.org
—
In spatial and movement research the use of the term `landscape ́ is often understood as something external to and independent of the body. Climate change, high dynamics in urban development and new social movements are asking for methods, to read, interpret, design and to choreograph landscapes as structures of transformation.
We believe that how the body interacts with the landscape shapes its structure simultaneously as the landscape informs the body. Questioning approaches and perceptions of movement, rhythm and sequence could lead to methods of perceiving and designing landscapes as performative processes.
—
The workshop is presented in the context of Hybrid Platform, an initiative of the Berlin University of the Arts and the technical University of Berlin, to support projects in research and education in the heart of Campus Charlottenburg Berlin.
—
kindly supported by Uferstudios Berlin, TU Berlin, Campus Charlottenburg, UdK Berlin and Inter-University Center for Dance Berlin